Dentist - Boston
333 Washington St Ste 341
Boston, MA 02108
617-523-5151

Find answers and other helpful dental topics in our digital library.
Posts for tag: pregnancy
By Downtown Dental Center
October 18, 2013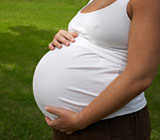 During pregnancy, a mother has many health concerns for both her baby and herself. Though it may not seem as important, dental health and development should be on that list of concerns, for both you and your baby. In fact, your baby's tooth development is already well underway just a few weeks after conception. Pregnancy can also present challenges to your own dental health that definitely deserves your attention and care.
Taking care of your own dietary needs and dental health is also the best thing you can do for your baby. The baby growing within you needs calcium, phosphorus, vitamins and other minerals for the healthy development of teeth and bones. That can only come from you eating a balanced diet rich in these nutrients.
During pregnancy, you are also more susceptible to gingivitis (inflammation of the gums) or other gum diseases because of the normal increase in the level of the hormone progesterone. In fact, some studies seem to indicate that severe gum disease might even raise the risk for premature birth and a low birth weight. It's important then to practice good dental hygiene during your pregnancy: brushing your teeth at least twice a day with an American Dental Association (ADA) approved fluoridated toothpaste, flossing and using an ADA approved mouth rinse that deters the buildup of plaque and the occurrence of gingivitis. Our office is also happy to provide you instruction on proper brushing and flossing technique to help you gain the most benefit from your daily hygiene.
By paying close attention to your own dental health and diet, you are actually doing the very best you can to provide your baby a solid foundation for a lifetime of good oral health.
If you would like more information on protecting your and your baby's oral health, please contact us or schedule an appointment for a consultation. You can also learn more about this topic by reading the Dear Doctor magazine article "Expectant Mothers: Dental facts you need to know."
By Downtown Dental Center
February 03, 2013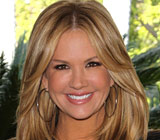 When it comes to sensitive gums during pregnancy, Nancy O'Dell, the former co-anchor of Access Hollywood and new co-anchor of Entertainment Tonight, can speak from her own experience. In an interview with Dear Doctor magazine, she described the gum sensitivity she developed when pregnant with her daughter, Ashby. She said her dentist diagnosed her with pregnancy gingivitis, a condition that occurs during pregnancy and is the result of hormonal changes that increases blood flow to the gums. And based on her own experiences, Nancy shares this advice with mothers-to-be: use a softer bristled toothbrush, a gentle flossing and brushing technique and mild salt water rinses.
Before we continue we must share one important fact: our goal here is not to scare mothers-to-be, but rather to educate them on some of the common, real-world conditions that can occur during pregnancy. This is why we urge all mothers-to-be to contact us to schedule an appointment for a thorough examination as soon as they know they are pregnant to determine if any special dental care is necessary.
Periodontal (gum) disease can impact anyone; however, during pregnancy the tiny blood vessels of the gum tissues can become dilated (widened) in response to the elevated hormone levels of which progesterone is one example. This, in turn, causes the gum tissues to become more susceptible to the effects of plaque bacteria and their toxins. The warning signs of periodontal disease and pregnancy gingivitis include: swelling, redness, bleeding and sensitivity of the gum tissues. It is quite common during the second to eighth months of pregnancy.
Early gum disease, if left untreated, can progress to destructive periodontitis, which causes inflammation and infection of the supporting structures of the teeth. This can result in the eventual loss of teeth — again, if left untreated. Furthermore, there have been a variety of studies that show a positive link between preterm delivery and the presence of gum disease. There has also been a link between an increased rate of pre-eclampsia (high blood pressure during pregnancy) and periodontal disease. Researchers feel this suggests that periodontal disease may cause stress to the blood vessels of the mother, placenta and fetus.
To learn more about this topic, continue reading the Dear Doctor magazine article "Pregnancy and Oral Health." And if you want to read the entire feature article on Nancy O'Dell, continue reading "Nancy O'Dell."
By Downtown Dental Center
September 10, 2012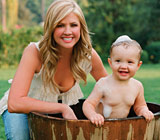 During Nancy O'Dell's interview with Dear Doctor magazine, the former co-anchor of Access Hollywood and new co-anchor of Entertainment Tonight could not resist her journalistic instincts to turn the tables so that she could learn more about a baby's oral health. Here are just some of the facts she learned from the publisher of Dear Doctor about childhood tooth decay, pacifier use and what the right age is for a child's first visit to the dentist.
Many moms-to-be and parents or caregivers of young children are surprised to learn that around age 1 is the ideal time to schedule a child's first visit to the dentist. This visit is crucial because it sets the stage for the child's oral health for the rest of his or her life. It can also be quite beneficial for the parents, too, as they can be reassured that there are no problems with development and that the child's teeth appear to be growing properly. And if by chance we identify any concerns, we will discuss them with you as well as any necessary treatment strategies.
Nancy also wanted to learn more about pacifiers — specifically, if it is a good idea for parents to encourage their use. Obviously, children are born with a natural instinct for sucking, so giving a child a pacifier seems totally harmless. Pacifiers definitely have some advantages; however, if used for too long — past the age of 18 months — they can cause long-term changes in the child's developing mouth (both the teeth and the jaws).
Another problem that parents and caregivers need to be aware of is baby bottle syndrome. This is a condition that develops in children who are perpetually sucking on a baby bottle filled with sugary fluids such as formula, fruit juices, cola or any liquids containing a large amount of sugar, honey or other sweeteners. It is important to note that a mother's own breast milk or cow's milk are good choices for feeding babies, as they both contain lactose, a natural sugar that is less likely to cause decay. However, if these liquids are placed in a bottle and a child is allowed to suck on it throughout the night, they, too, can promote tooth decay. The key is to feed your child properly while avoiding all-night feedings and liquids loaded with sugar.
To read the entire Dear Doctor magazine article on Nancy O'Dell as well as to learn more about a baby's oral health, continue reading "Nancy O'Dell — A life full of smiles." Or you can contact us today to schedule an appointment so that we can conduct a thorough examination, listen to your concerns, answer your questions and discuss any necessary treatment options.