Dentist - Boston
333 Washington St Ste 341
Boston, MA 02108
617-523-5151

Find answers and other helpful dental topics in our digital library.
Posts for: August, 2013
By Downtown Dental Center
August 21, 2013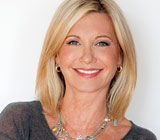 Singer Olivia Newton-John's daughter Chloe is now a lovely, grown woman, but Olivia recently recounted to Dear Doctor magazine a rather creative method she found to sooth Chloe's teething troubles many years ago.
"When Chloe was a baby and teething I remember using a frozen bagel for her sore gums," Olivia said. "She loved it!"
Cold is often very soothing to a teething child's gums. In fact, the American Academy of Pediatric Dentistry (AAPD) recommends using a clean, chilled, rubber teething ring, or cold wet washcloth. Chilled pacifiers can also be helpful. Be sure not to freeze teething rings or pacifiers as ice can actually burn sensitive mouth tissues.
Older teethers can sometimes find relieve from cold foods such as popsicles (or bagels!) but make sure your child eats these sugar-containing foods only at mealtimes so as not to promote tooth decay.
If your baby has not yet begun the teething (or tooth-eruption) process, you can expect it to begin usually between six and nine months. It may, however, start as early as three months or as late as twelve months.
Teething symptoms vary among children, as does the length of time it takes for a tooth to make its appearance. But many parents notice the following signs:
Irritability
Biting and gnawing
Gum swelling
Chin (facial) rash
Disrupted sleeping patterns
Ear rubbing
Drooling
Decreased appetite
These symptoms are usually most bothersome during the week that the tooth is breaking (erupting) through the gums, starting about four days before and lasting about three days after the tooth appears.
Occasionally, teething discomfort can be considerable. If that is the case with your baby, you can give her or him acetaminophen or ibuprofen in the appropriate dose (check with your pharmacist if you're not sure what that is). The medicine should be swallowed — not massaged into the gums, as this can also burn. Numbing agents should not be used for children under 2, except under the advice and supervision of a healthcare professional.
If you would like to learn more about teething or any other child-related oral health issue, please contact us or schedule an appointment for a consultation. If you would like to read Dear Doctor's entire interview with Olivia Newton-John, please see "Olivia Newton-John." Dear Doctor also has more on "Teething Troubles."
By Downtown Dental Center
August 06, 2013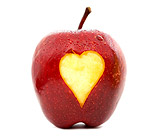 Your general and oral health go hand in hand — whatever is going on with the rest of your body can also affect your teeth, gums and other mouth tissues. That's why it's essential that you eat a diet with the right balance of healthy foods, while cutting back on unhealthy ones that contribute to tooth decay and other health issues.
When we refer to healthy foods, we mean foods with high nutritional value. These kinds of foods provide nutrients (carbohydrates, proteins, fats, vitamins, minerals and water) that build strong bodies (including teeth and gums), fight disease and help our bodies maintain good function on the cellular level.
A healthy diet has three components: variety, eating several different kinds of foods with a wide range of nutrients; balance, eating a proper portion from different food groups; and moderation, eating portions that are enough to meet energy needs and cellular health while not overindulging. It's important to remember that excess carbohydrates, proteins and fats are stored as body fat, which has an impact on a healthy weight.
In addition, you should also bear in mind how certain foods can have a direct effect on your teeth and gums. Foods with added sugars (such as refined sugar or corn syrup) and starches are a rich food source for decay-causing bacteria; naturally occurring sugars found in fresh fruits, vegetables and dairy products are not as great a threat. In this regard, the best approach is to decrease the amount of processed foods in your diet, while increasing your intake of whole foods.
You can also help deter tooth decay with certain foods. Eating cheese after a sweet snack helps prevent an increase in the mouth's acidic level, a contributing factor in tooth decay. Eating plant foods that require chewing stimulates saliva, which also helps prevent a rise in the acidic level.
Proper nutrition is a key component in maintaining overall good health. It's just as important for keeping your teeth and gums healthy and functioning.
If you would like more information on nutrition and the part it plays with your oral health, please contact us or schedule an appointment for a consultation. You can also learn more about this topic by reading the Dear Doctor magazine article "Nutrition: Its Role in General and Oral Health."