Dentist - Boston
333 Washington St Ste 341
Boston, MA 02108
617-523-5151

Find answers and other helpful dental topics in our digital library.
Posts for: March, 2013
By Downtown Dental Center
March 22, 2013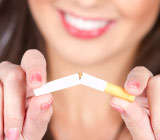 Oral cancer is not as uncommon as people think. In 2008 an estimated 34,000 cancers of the mouth and throat were diagnosed. In order to minimize your risk of developing oral cancer, be aware of habits that increase your risk.
Risk Factors for Oral Cancer include:
Use of smoking or chewing tobacco: Tobacco smokers have 5-9 times greater risk of developing this cancer than non-users; snuff and chewing tobacco users have a four times greater risk than non-users.
Excessive use of alcohol: Moderate to heavy drinkers at are 3-9 times greater risk than non-drinkers.
Exposure to sun: Chronic sun exposure is associated with development of lip cancers.
Certain viral infections such as the human papilloma virus that can cause cervical cancer in women can also cause oral cancer.
Compromised immune (resistance) systems that are not functioning properly can be associated with cancers.
Poor nutrition including diets low in fruits and vegetables can increase risk for all cancers including oral cancer.
Family history: People carry a predisposition in their DNA (the genetic material they inherited from their parents) for developing cancer.
Oral Cancers Can Mimic Harmless Sores
Early signs of oral cancer can mimic harmless sores that occur in the mouth such as canker sores, minor infections, or irritations that occur from biting or eating certain foods. Cancers in the lip area can easily be mistaken for harmless sores.
Early Detection is Key
It is important to have regular oral examinations to detect signs of oral cancer. Although 90 percent of oral cancers occur in people who are over 40, it is becoming more prevalent in younger people, particularly those who adopt risky behaviors: smoking, drinking and oral sex.
If you notice any unusual lesions (sores or ulcers), or color changes (white or red patches), anywhere in your mouth that do not heal within two to three weeks, come and see us and have it examined immediately.
Definitive diagnosis may require a small biopsy, the microscopic examination of a piece of tissue from the affected area.
It is important not to let a suspicious sore go unchecked. If detected and treated early, while a lesion or growth is small, survival rates can exceed 80 percent. Contact us today to schedule an appointment to discuss your questions about oral cancer. You can also learn more by reading the Dear Doctor magazine article "Oral Cancer."
By Downtown Dental Center
March 07, 2013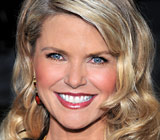 Supermodel Christie Brinkley has a one-in-a-million smile, but she is just one of millions who have benefited from today's preferred tooth-replacement technique: the dental implant. In a wide-ranging interview, Brinkley told Dear Doctor magazine about a helicopter accident she suffered while back-country skiing.
"I fractured two molars in the back of my mouth and I had to get two dental implants," Brinkley told the magazine. "I am grateful for the dental implant technology that feels and looks so natural."
You might think it serves little purpose to replace a missing back tooth that was barely visible in your smile to begin with — especially if you don't spend a lot of time posing for magazine covers. But this is actually not the case. Your molars are extremely important for chewing and even for maintaining a more youthful appearance.
Dentists generally agree that losing posterior (back) teeth can have many consequences for the remaining teeth and their surrounding structures, i.e., bone and gums. If back teeth are missing, the front teeth end up bearing more stress than they were built for. And there are certain things that happen when any tooth is lost, whether front or back, that can affect function and appearance.
For one thing, when a tooth is lost the adjacent teeth tend to drift into the empty space or tip towards it. This can adversely affect your bite. Too much shifting can render a tooth basically useless and also leave it more vulnerable to gum disease.
Another complication is the loss of tooth-supporting bone that inevitably occurs when teeth are lost. When a tooth comes out, the bone under it actually begins to melt away. Since back teeth support the vertical dimension of the face, their loss can cause what's known as "bite collapse" — a reduction in facial height that becomes increasingly noticeable over time and can make you look older.
A dental implant can prevent all of these things, while providing you with a replacement that looks and feels just like the tooth you lost.
If you are interested in learning more about implants, please contact us or schedule an appointment for a consultation. If you would like to read Dear Doctor's entire interview with Christie Brinkley, please see "The Secret Behind Christie Brinkley's Supermodel Smile." Dear Doctor magazine also has more on "Replacing Back Teeth."