Dentist - Boston
333 Washington St Ste 341
Boston, MA 02108
617-523-5151

Find answers and other helpful dental topics in our digital library.
Posts for: January, 2013
By Downtown Dental Center
January 15, 2013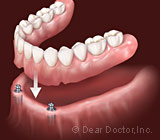 When a device meant to make your life easier doesn't function properly, it can be extremely frustrating. This is sometimes the case for people who wear lower dentures, which loosen over time. These removable replacement teeth can become less reliable and more uncomfortable. Why does this happen?
The answer is bone loss. When a tooth is lost, the bone surrounding it deteriorates and this will change the shape of the jawbone in your mouth. You may find that a lower denture that once had a snug fit on your lower jaw is now sliding around. This happens more often on the bottom because your muscular tongue pushes against the denture. Also, a top denture has more surface area due to an artificial palate to help create suction to the roof of the mouth and keep it in place.
Dental implants, which permanently replace the roots of teeth, do not loosen and they also prevent bone loss. But replacing a whole set of bottom teeth with dental implants and crowns is expensive. What to do?
There's a relatively new solution that combines the security of implants with the affordability of a removable denture. It's called an overdenture, and it may be something you want to consider. An overdenture is a lot like the removable lower denture you already have, only it fits over two implants strategically placed in your lower jaw. While the lower denture is still removable, its stability is greatly improved.
Studies have shown that people with two-implant overdentures have a higher quality of life, and receive better nutrition, than those wearing conventional dentures. It's not hard to figure out why: A more stable denture makes it easier to eat healthy foods such as vegetables — or, really, any foods — and prevents embarrassing slippage of false teeth.
If you are tired of living with a wiggly lower denture, contact us to discuss two-implant overdentures, or to schedule an appointment for a consultation.
You can read more about this topic in the Dear Doctor magazine article "Implant Overdentures for the Lower Jaw."
By Downtown Dental Center
January 05, 2013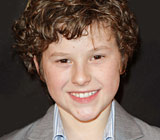 Nolan Gould of the hit TV show Modern Family has an uncommon gift for comedy, but he also has a very common orthodontic problem: too many teeth for the size of his mouth, which often results in "crowding."
"My teeth used to be pretty messed up," Nolan recently told Dear Doctor magazine in an exclusive interview. "I had two extra teeth when I was born. They hadn't come out (erupted) yet. And all the other teeth that were already there were starting to point backwards because it was getting so crowded in my mouth. They had to remove those two (extra) teeth," he said.
Although being born with extra teeth is somewhat unusual, needing to have teeth extracted for orthodontic reasons is not. In fact, orthodontic treatment often involves removing teeth to relieve crowding. It makes sense when you think about it: When there are too many teeth for the size of the dental arches (upper and/or lower jaws) or the teeth are larger in size than the dental arch can accommodate, there may not be enough space to align them properly. The necessary space can be created by removing teeth.
The teeth most frequently extracted for orthodontic reasons are the first bicuspid teeth. These are the ones right between the cuspid, or eyeteeth (under the eyes) and the molars (biggest back teeth). Once there is enough space, the orthodontist can choose from a variety of orthodontic appliances to align the teeth, depending on the specific needs of the individual.
In Nolan's case, it was the extra two teeth he was born with that were removed. Afterwards, the young actor's orthodontist was able to shift Nolan's remaining teeth into proper alignment using orthodontic appliances called Crozats. Made of metal wires, Crozats go around the back teeth and behind the front teeth, making them virtually invisible.
"You can remove them, which is really good for acting, especially because you can't see them," Nolan explained. "I can wear them 24/7 and nobody will ever notice."
Nolan's orthodontic appliances may not be noticeable, but his fabulous smile certainly is!
If you would like to learn more about improving tooth alignment with orthodontics, please contact us today to schedule an appointment for a consultation. If you would like to read Dear Doctor's entire interview with Nolan Gould, please see "Nolan Gould." Dear Doctor also has more on "Tooth Removal for Orthodontic Reasons."